Rover 200/400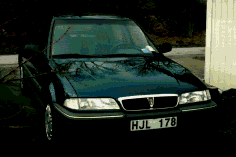 Bosse Arnholms 214SiL from 1995.
In 1984 the Honda Ballade, known as Honda Quintet in Asia and America, was introduced as Rover 200. It was sold with either a 1342 cc Honda-engine or a 1598 cc Rover-engine.
The 2nd series Rover 200/400, 1990 to 1995 models, was based on the Honda Concerto and those 1.6 Rover's did use the Honda engine - some of the Rover 216GTi's got a twin cam version of the engine. All the body panels were different, some of the interior trim such as the switches, dash and steering wheel were carried over.
The front suspension on the Rover is MacPheron Strut with coils springs. The drivetrain and suspension apart from the shocks and springs would have been the same.
Engines other than the 1.6 were different, the engines in the 1.4 and 2.0 were Rover.
The 200-series was a three or five door hatchback and the 400-series a four-door saloon.

In 1992 these cars got a facelift with a new grille.

In summer 1995 two new models were introduced, a smaller 200-series and
the 400 in the size of the "old" 200/400-series. The 400 shares a floor pan and some body pressings with Honda Civic.