Rover 416 SLi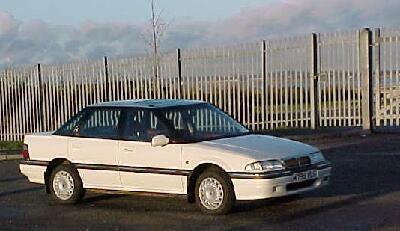 Jabawoki's 416 SLi from 1994.
This is Jabawoki's car:

Bought in February 1997 following an RTA when my 216SE mk 1 was written off, this Rover 416SLi had 15k miles on purchase. It now has 49K miles.
It is an amenable forgiving drive and corners apallingly!
Mechanically I have had absolutely no problems at all. It only has a single cam and is the 16 valve injection model, with Honda engine. It's quietest running speed is about 85mph.
It is standard in every way. Even down to the Rover i.c.e. which I'm now not that keen on. I have a major grumble with it, and that is the boot leaks and 3 garages have not been able to sort the problem out! It will be going on to personalised plates fairly soon.
I use this car for all my major long hauls, as I do not want to damage the 220 GTi which I also own.