SD1 1976 - 1987 - The End of an Epoch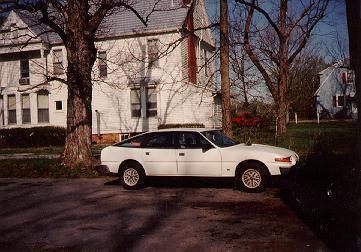 The picture is taken by Clay Pierce in the USA. It is his own car, a SD1 V8 from 1980.
More SD1

This model was introduced in 1976 and the last car of the model was built in 1986.
When Rover released what is called the SD1 in daily speech, the inherited tradition of the company was broken in several ways. Production was not run parallell with other models to keep a variety of models as with the changes between P4, P5 and P6.
With the SD1 a certain date was decided to end the P6 no matter what happened to the new line. There was a certain feel of fatalistic "succeed or die." It was also clear for everyone involved that the new car was taken from a scenario where finances had been a crucial word, not only quality. I can hear the screams from certain people, because you love your SD1:s, just like I love mine.
This is to be remembered though after 20 years that the SD1 won not only "Car of the Year 1977" but also the prize of "Most Towed Car" in it's home country. This was a variety of "Best Towcar" which the SD1 won much thanks to it's rear self-adjusting shock-absorbers.