MG ZS 120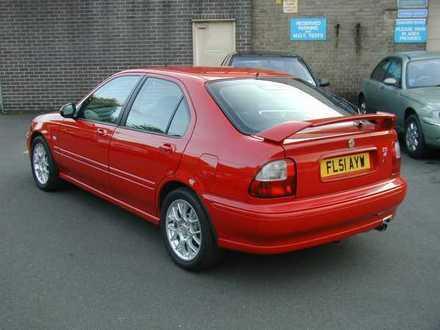 The five-door Rover 45 as MG ZS 120+
The new MG ZS 120+ has the K series 1.8i engine from the MGF and is a five door car based on the Rover 45. Our "British Correspondent" has tested the car on the UK streets and gave the following report:
"The car is visually much different to the Rover 45 5 door it is based on, both inside and outside. The seating is very firm and sporty, with deep bucket seats, which maybe a little narrow for some people. The ride quality is very firm and the steering and handling very precise, but it can be quite noisy on some road surfaces. The interior has a bright and sporty look, with red leather insert panels on the seats and white faced instruments with orange lettering. All the wood effect trim has been replaced by a light grey mettalic effect trim, which also loots quite sporty.
Performance is acceptable from the 1.8 litre engine, but not as sporty as in the MGF.
Overall, it was fun to drive, but for long distances, I think the Rover 45's refinement and ride quality would be appreciated!"