Rover Special, the Singleseater, 1948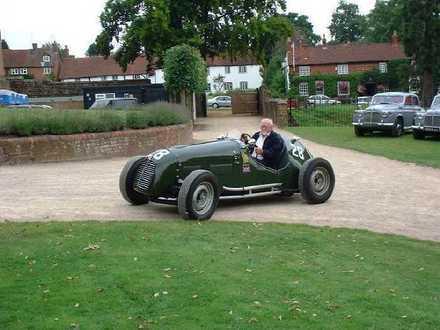 This Rover Special was built in 1948 by three young enthusiastic engineers at The Rover Company, Spencer King, Peter Wilks and George Mackie for their own amusement. They used it for club racing with some success too, until they became too involved with the Marauder project.
In 1949 Jack Gethin in Birmingham joined the trio. He helped out with finance and workshop space and he also raced the car. In the early 1950:ies Gerry Dunham raced the car in some international events, thus qualifying the car for the historic section of VSCC events, where it still occassionally competes.
In 1963 Frank Lockhart became the regular driver, and in the late 1960:ies he bought the car from the original owners, King, Wilkes and Mackie.
Frank used the car for racing until he, in 2002, sold it to the Welch Rover-enthusiast Ian Glass, who now keeps the racing tradition going.
The chassis of the Rover Special was a prototype for the P3 chassis, designed by Adrian Lombard before WWII. The engine was a four-cylinder prototype IOE of 1.2 litres that had been used in a Rover 10, and had covered more than 110 000 miles (175 000 km) when it was given to the three engineers.
The body was built by John Griffiths, and has been altered very little since new.
On the mechanical side however, there has been numerous changes. From the start, King, Wilkes and Mackie used the car to test components for the Rover Company.
Numerous are also the engines that have been tested and used in the car. Since 1979 the car has a 2,6 litre engine with a tripple-carburettor manifold.

In the years after WWII enthusiasts built a number of racingcars based on Rover-parts. Apart from the Rover Special none of them are known to have survived.