Rover 75 as MG X10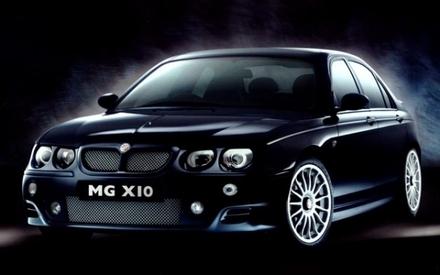 Rover 75 as MG X10

The first details of MG X10

On November 23, 2000, MG Rover released the first official photograph of a vehicle code named MG X10, one of three new MG sports saloon cars that will be launched in 2001.
The three MG sports saloons will be in production during 2001 and result in Longbridge manufacturing a total of eight different models.
Over 500 engineers are now based at Longbridge working on these and other exciting product programmes. MG Rover has already invested over US $150M in new product development since the Company was established in May 2000.
Kevin Howe, chief executive said: "2001 will be the year when the MG brand re-establishes itself as a leading global car brand with a range of sporty cars from the MGF roadster to an outrageous MG X10. MG's will be fun, accessible, have superb dynamics and appeal to a growing customer target group."
To ensure these objectives are met Peter Stevens, designer of such cars as the McLaren F1 as well as cars for Lotus and Jaguar, is directing the product design activities. His colleague and board director, Rob Oldaker, is ensuring the chassis will produce driving exhilaration and the powertrain develop appropriate levels of performance.
As a part of the development of the MG brand involvement in a range of motorsport activities will be established including participation in the Le Mans 24 hour race in June 2001.