History
The idea of a Road-Rover was born at the moment that Land Rover was introduced in 1948. The Rover Company realised that there was a market for a Station Wagon. A crude model was introduced the same year, but high costs of coachbuilding and taxes stopped it in 1951.
But very soon, in 1952, Maurice Wilks presented a first prototype of a Road-Rover. The name indicates that this car was aimed to run at roads as well as on land were the Land Rover excelled.
The prototype was based on a shortened P4 chassis, thus rear-wheel-drived. The bodywork was very basic, and it was intended to go into production in 1953. This did not happen of course, but 12 or possibly 13 prototypes were built until the project was cancelled in 1956.
These prototypes are known as Road-Rover Series I.
In 1954 the Land Rover Station Wagon was introduced. This car was much like the original Road-Rover prototypes, so when the new Road-Rover-project started in 1956 it was going to be more of a saloon car then the rugged Land Rover.
The Road-Rover series II prototypes were based on a modified P4 chassis with aluminium bodywork. Rather odd design too by Maurice Wilks and Sam Ostler.
The series two machines, of which there are the only two known survivors are fitted with the Rover 80 engine. Unlike the early Land Rovers they are fitted with independant front suspension.
No 9 was the personal property of Rover's Managing Director Spencer Wilks, who for many years used it on his Scottish estate on the Isle of Islay where some of the best malt whiskies are produced.

The Road-Rover-project was stopped in 1959 soon after prototype number nine was built.

These Series II Road-Rovers were so close to full production that The Rover Company supplied drawings and technical specifications to Corgi. The plan was to introduce a Corgi model at the same time as the new car. At Corgi the first models were built, but of course, full scale production did not start. But two models of the Road-Rover are known to have survived. Now owned by Marcel R. van Cleemput, at that time chief designer at Corgi.
Survivors
Only three of all the Road-Rover prototypes are known to have survived. This is RR12, the last prototype of Series I, now at British Heritage at Gaydon and RR8/S2 and RR9/S2 shown at the pictures on this page.
Number 9 was used by Rover Company managing director Spencer Wilks many years, and is now owned by Rover-enthusiast Ian Glass in Wales, who also owns prototype number 8.
Successors
The Range Rover was "born" as an idea by the market surveyor Graham Bannock in 1965. He found that there was a market for a car as luxurous and comfortable as the Rover sedans that could be used in the same terrain as the Land Rover. And Bannock managed to persuade the management to build this car.
By mid 1967 the first prototype was built and it was decided that it would be introduced by the end of 1969, but introduction had to wait until mid 1970.
The first cars built had found a style that appealed to the customers in a way that was not changed much as long as production continued over the years.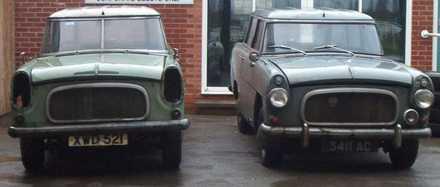 Prototypes from 1958 and 1959