Tim Chadwick's ex-racing Leyland P76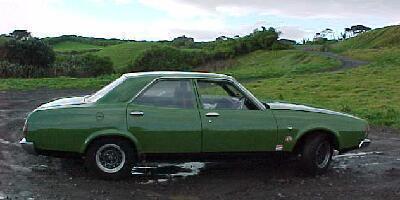 The car today . . .

. . . and yesterday!
This photo is a black and white image from a newspaper
of the P76 was shot in 1975 after the race in Waitara.
It was shot at the Nicholson property, which is still in the family.
Tim's 1973 Leyland P76 V8 was originally owned and raced by Ross Calgher of Waitara in New Zealand in long distance production car racing.Ross Calgher worked for Nicholson McLaren Engines in the UK and he did some work for the Ford Escort works rally team in the UK, as well as being the builder of engines for both Nikki Lauda and John Watson in formula one McClaren team in the early 1980's.
Tim Chadwick rescued this ex-racing P76 from a farmer's barn in Tongaporutu, North Taranaki and has been restoring it for two years so far. The 'Spanish Olive' coloured P76 is standard apart from a two-barrell Holley carburettor mounted over one of Ross Calgher's worked Manifolds as well as LSD and Calgher extractors added. A Calgher camshaft will probably go into the P76 in the future but Tim wants the car to keep close to its original racing spec.
The coloured photo is of the Ross Calgher / Malcolm Andrews Leyland negotiating a corner during the 1000 KM race at Pukekohe circuit in 1975, when it finished the race in 18th position. Another Leyland driven by David Oxton lead the race for some time, but a Chrysler Charger was the eventual winner.
Ross Calgher runs a business for rebuilding and servicing performance engines in Waitara these days.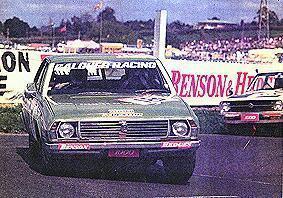 Of the four racing Leyland P76's in New Zealand in the seventies this car is thought to be the only survivor