Jabbeke Golden Jubilee 2002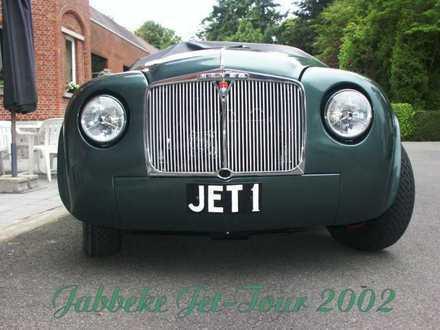 Fifty years ago Rover made a world speed record for the passenger cars. But this car had no piston engine, instead driven by a gas turbine. The car was named JET 1 and driven by Spen King. The speed was over 150 mph or 240 kph, and was put in all record books.
Now fifty years later, a Rover enthusiast thought that a Golden Jubilee of the JET 1 would be something to remember, because it was a milestone in car history. So George Hamill decided to build an replica of JET 1. He also made a tour to Belgium where the record was made at Jabbeke, between Gent and Oostende, fifty years later in the same week.
A Rover P4 was modified, roof chopped off, rear doors replaced with sheet metal, windscreen deleted and a sleek two door convertible of the original design was the result. George with his friend Richard did the work to this replica. First they had taken hundreds of photos of the original JET 1 in Science Museum in London or Rovers own Heritage Museum at Gaydon. Like all car nuts, time is the limiting factor, burning midnight oil was not uncommon for this duo.
The Jabbeke Jet Tour succeded to collect quite a few cars to this weekend. Two cars from Sweden (Arbrink P6, Arnholm new 75) and two from France together with a team of British Rovers attended. P4 of the 50's, P6 of the 60-70's and SD1 from 70-80's with a lone Alfa Romeo, an Italian touch to Rovers. Not to forget George's P4 Pininfarina cabriolet from 1952 and a British made equivalent, The Mulliner, from 1954. A black P6 Estoura, one of the limited numbers of station wagons built by Rover, made the list complete.
Friday afternoon a meeting point in De Haan, a seaside resort started to collect cars from all directions. Later a visit to Damme, a café where an afternoon tea or rather beer, or drinks for the passengers was taken in the towns small square. No place for the cars, they were parked outside town. Then heading for the two hotels for preparing of the evenings highlight, the largest hotel, looked like a castle from the garden side, was the place.
A splendid four course dinner was on the menue. Champange, to welcome everyone, salmon and white wine entree, steak and red wine main course were served. Finish with strawberries and cream made you more than satisfied. Good idea to bring all together the first evening with this dinner, much better than looking to cars on the road.