MGF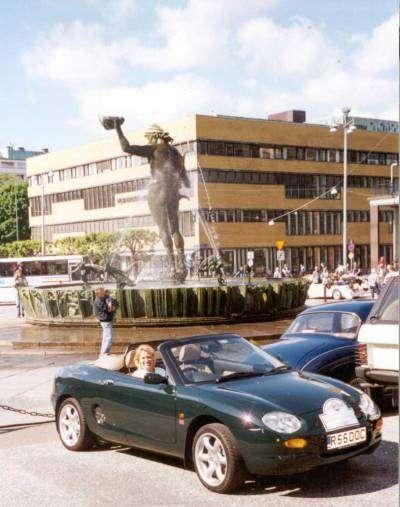 Annelie with the MGF at Götaplatsen in Gothenburg May 2000.
When Rover at the Geneva Fair in 1995 presented the MGF it marked the revival of the classic MG-mark of two-seat sportscars.
The new car was the result of four years of developement together with the Mayflower Motor Panel Company of Coventry that manufactures all the panels. All assembling is made at the Rover factory at Longbridge.

The engine is developed from the 1.6 litres K-series engine. The 1.8i VVC engine have a new Variable Valve Control system. It's placed mid-car and operates the rear wheels.

The hood is made by Pininfarina, and a hardtop is optional. This hardtop can be mounted with the hood down.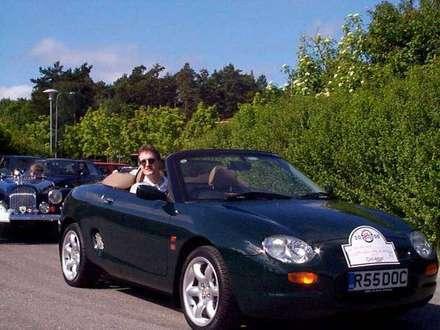 Paul is lined up for start in British Car Week Rally in Gothenburg, May 2000.

MG at Harrods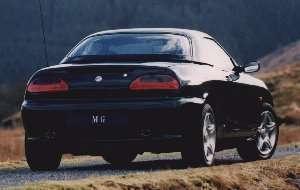 Hardtop is optional for the MGF.
For the first time ever the famous London store Harrods have shown cars in their front-facing windows before Christmas. Before Christmas 1996 Harrods showed two new MGF-cars together with the classic MGC in their windows.

The interior of the MGF.
Specifications:
Wheelbase: 2.375 m
Track, front and rear: 1.394 m
Overall length: 3.913 m
Overall width: 1.628 m
Overall height (with hood): 1.264 m
Luggage capacity: 0.21 m/3
Weight, 1.8i: 1.060 kg
Weight, 1.8i VVC: 1.070 kg

Specifications 1.8i:
4 cylinders, 16 vents, bore 80 mm, stroke 89,3 mm, cubic capacity 1796 cc, B.H.P (DIN) 120 at 5.500 rev/min, torque 166 Nm at 3.000 rev/min. Topspeed 193 km/h, acceleration 0-100 on 8,5 sec.

Specifications 1.8i VVC:
4 cylinders, 16 vents with variabel control system, bore 80 mm, stroke 89,3 mm, cubic capacity 1796 cc, B.H.P (DIN) 145 at 7.000 rev/min, torque 174 Nm at 4.500 rev/min. Topspeed 209 km/h, acceleration 0-100 on 7,0 sec.