Leyland P76 (Rover 4500)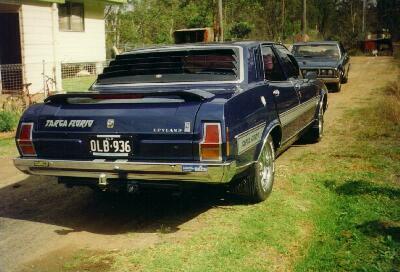 A Leyland P76 Targa
Background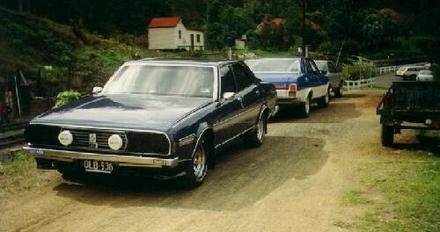 Here's a couple of Australian P76's on a spring outing
The P76 was introduced to the Australian market in 1973. It was an attempt by BMC/Leyland to break into the lucrative "big car" market here. At the time this market was dominated by Ford (Falcon), Holden (Kingswood) and Chrysler (Valiant). All were of traditional design front engine, rear wheel drive, offering cast iron sixes or cast iron V8s, with 3 or 4 speed manual or 3 speed automatic transmissions. All could seat 5 or 6 comfortably, (depending on whether the front seat was a bench or 2 buckets). All offered a sedan (saloon), wagon and coupe as well as utes and vans. None were convertibles (from the factory).
The car
The P76 was offered as a 6 cylinder or V8 manual or automatic (I think using Borg-Warner driveline components, though I am not sure of this). There were plans for a coupe hatch, the Force 7V, and a station wagon, but Leyland pulled out of Australia before they made production. I have seen photos of one of the surviving prototypes and they looked good.
The engines were a 2623cc OHC six (developed from Austin Tasman/Kimberly where it was used E-W front wheel drive but applied N-S rear wheel drive in P76) and the 4416cc all alloy V8. This was an enlarged and refined version of the well known 3500 Rover V8. It weighed about the same as the 6 cylinder motor.
The press were enthusiastic initially and it won Wheels Magazine "car of the year" in 1973. It was well equipped, with power assisted front disc brakes (still optional on the other 3 makes), concealed wipers and a front hinged bonnet standard. Demand exceeded supply initially, but quality control problems (including one which caused the wheels to fall off!) and strikes at component suppliers reduced the number of cars for sale and created a bad impression on the public.
Its most famous feature is that you can fit a 44 gallon drum in the boot and shut the lid. This is curious - did the designers think all Australians lived or worked on sheep stations, and that big drums of sheep dip or diesel were part of weekly shopping?!
P76 was very short lived (stopped end of 1974), due mostly to poor build quality and reliability problems. They have a small but loyal and enthusiastic club following today, although they are generally the butt of many automotive jokes. Around 17000 P76 sedans were produced at the Leyland plant in Sydney before it was closed.
Of interest now is that the 4.4 litre V8 is a reasonably common transplant into 3.5 litre Range Rovers. LPG conversions are also popular (26 cents per litre against 70 cents per litre for petrol).
Paul

Thank you Paul for all this!
We can also add that the car was designed by Michelotti and that by the end of the P76 run a special limited edition models, the Targa Florio, was built in about 300 ex. These targas were all Autos, had power steering, all had LSD's and most of them were metallic navy blue.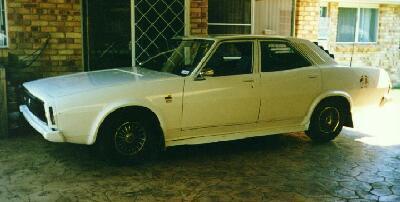 Here's another Leyland P76.
Here's more information about Leyland Australia, and the cars produced there.