Land Rover as police car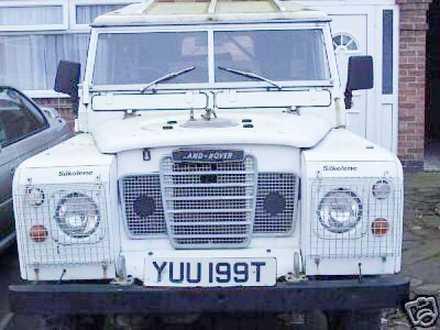 Simon 's 109 Land Rover Police car from 1978.
Simon Maltby in Cumbria, England, is a Land Rover freak and in year 2005 he bought this ex-Police Land Rover 109 from 1978 on Ebay without having seen it before.
This car was built together with another identical one and left the factory on 8th December 1977 and was delivered to the Metropolitan Police garage.
It was not until he had bought the car that he was made aware of the fact that this was an ex policecar, and a club-friend pointed out to him that someone had to restore it.

Simon was lucky to find a person who actually used to run one of these Land Rovers. That person told Simon that the cars were known as STEAC vehicles "Specially Equipped Traffic Accident Car". They were used specifically for towing cars, pushing cars and carrying accident scene equipment around.
Simon has bought a new galvonized chassis and an old 2.5 petrol engine and started the work.
The new engine is now almost as new and complete. Only lacks manifold gasket and carburettor. The old gearbox has been removed from the car and awaits a rebuild. The new chassis is beeing waxoiled and once that and the gearbox is finished it's only a matter of lifting the bodywork over and he's ready for a drive in a practically new car!

Simon shows more pictures on his homepage.