Freight Rover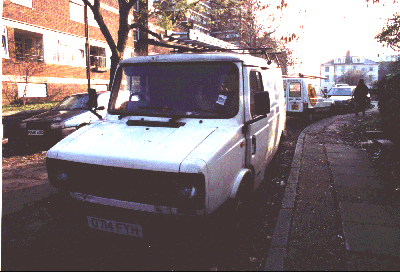 This Freight Rover from 1986 is used by a craftsman in London.
When it first appeared it was known as the Leyland 185 or 240 depending on carrying capacity. The Sherpa name came later, as did the Freight Rover name. Now it is called the Pilot and made by LDV. LDV was spun off from Leyland DAF after the bankruptcy.
It is very common in many European countries.
From the start this lorry was called Leyland Sherpa. The vehicle is still produced with the name Leyland Daf. When exported it's called only Daf. eg Germany, where it's probably the most popular "Rover" car.
Many enthusiasts feel that these interesting and underrated vehicles look far more stylish than their squared off successors. The front-end design features shares a theme with other Leyland vehicles such as the Maxi and Mini clubman and it would be interesting to know whether the same person(s) had designed their looks.
The rear part of a Sherpa has exactly the same body pressings as an Austin J4, a 1960's van. These pressings are also to be found on a type of 1989's Spanish van, presumably through the sale of the body machine tools - more information would be welcomed.
Like all BMC/Austin/Austin-Morris/BLMC and BL vehicles they shared a lot of common parts particularly with the Austin Cambridge/Morris Oxford.
1974-78 petrol Sherpas had Austin B-series engines (1600cc or 1800cc) which were replaced by 1700cc O series units in 1979. These overhead valve engines were also used in some Princess and Marina "Ital" models. The same engines as well as a 2000cc model (differing only in stroke length) continued to be used in 1980's Freight Rovers and some Leyand Daf vans, although the latter vehicles eventually used Peugeot engines.
The Sherpa got its original gearbox (now supplanted by a ZF box) from the MGC.