Land Rover Freelander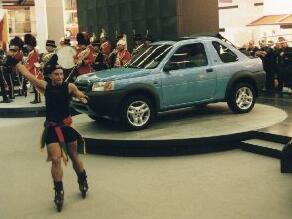 The threedoor Freelander at the introduction at Franfurt in 1997.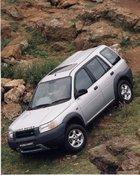 If you want to drive a SUV, Sport Utility Vehicle, but don't want to be seen in a discoteque racer like the Toyota RAV4, than the new Land Rover Freelander is the car for you!
Unlike the competitors Land Rover guarantees that the car can be driven in course terrain.
When you drive on ordinary roads 95% of the force is by the frontwheels, but as soon as they loose their grip the force is sent to the rear wheels instead. This system works very much like the Volvo AWD system.
The ABS-brake system is used to stop spinning wheels and to send the driveforce to wheels with firm grip. This system works like on most other cars, but Rover is the only supplier of HDC, Hill Descent Control. When driving down a hill you can use this system that brakes the car automatically so that the wheels don't loose their grip. The car continues to run at 9 km/h, but if the hill is too steep or slippery the speed is dropped to 7 km/h and if it's a gentle hill you can raise the speed to 50 km/h.
The Freelander have to different coaches. A fivedoor stationwagon much like the Discovery. The other is threedoors with a hood at the back.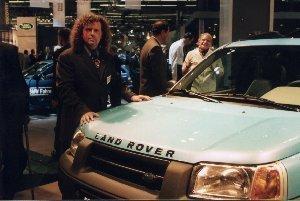 The Rover manager of design Gerry McGovern has led the developement of the Freelander.

Specifications:

1,8 litres petrol engine, 16V, DOHC, 120 hp and 165 Nm at 2750 rpm. Five speed manual gearbox.
2.0 litres diesel engine, 97 hp and 210 Nm at 2000 rpm. Five speed manual gearbox.
Freelander is shipped with the Kv6 engine and automatic gearbox too.