New Rover RD60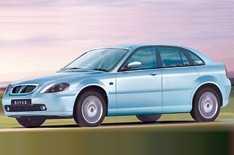 The first spy-pictures on the new Rover RD60, successor to the Rover 45, has been published by some magazines.
The 45 is the oldest model now. Launched in the early 1990:ies it was developed in cooperation with Honda and is virtually the same car as Honda Civic. The 45 has had a couple of facelifts, but still it's an old model and sales are dropping. The MG-Rover Company plans to launch the new car in 2004, which means the model must be developed very fast.
To save a lot of time Rover has decided to use the 75-platform. This platform is built shorter and the wheels are in the corners.

Rumours say that the fairly modern Rover 25 will be dropped too, when the RD60 has been launched.