City-Rover from Indian Tata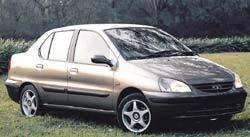 Tata Indigo

On December 20th 2002 MG Rover announced that a new small car would be launched during 2003.
The new car would be based on the Tata Indica-platform and be built to technical and design specifications from MG Rover by Tata Engineering in India at their Pune-plant.
In July 2003 MG Rover revealed details and pictures of the car.
The car was called CityRover and sales in the UK started in November 2003.

The Viking badge
in new shape
on CityRover
CityRover was sold in four different trimlevels with prices ranging from £6,500 to £8,500. All cars were delivered with a Tata 1.4 litre 85Ps petrol engine. All CityRovers had five doors.
The plans were to sell CityRover through all British dealers, as well as all dealers in Europe
The trimlevels were called Solo, Sprite, Select and Style. All levels used the same engine.
Extra on the Sprite level was servo-assisted steering, remote central locking, CD-unit, alloy wheels, leather sports steering wheel and gear knob, front fog lamps and a rear spoiler.
Airconditioning and front and rear electric windows added on the Select level.
Style level came with anti-lock braking and a passenger airbag.
There were a choice between two solid and eight metallic colours.
Read more about Tata at their homepage.