The Jet-replica seen from the front in autumn 2000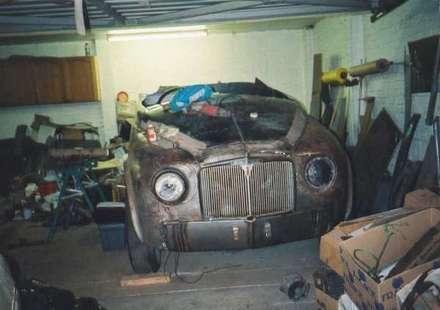 George Hamill in the UK is now building a replica of the JET1!
June 25/ 26 2002 sees the 50th. anniversary of Spencer King's epic drive at 150 m.p.h. on the Jabekke road in Belgium in JET1! To commemorate this event George Hamill is taking his replica to Jabekke. Spencer King has been invited to the event and may be in attendance, and may drive George's car.
George has also found an original Rover jet-engine that will be mounted in the replica.
We are all looking forward to see this unique car, when finished!
The Jet-replica from the rear in autumn 2000.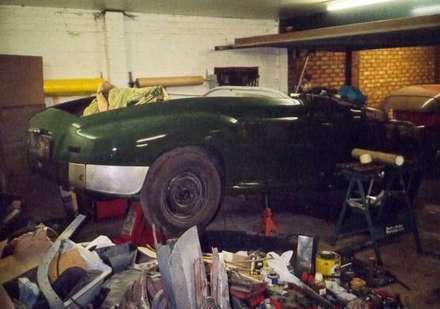 November 2001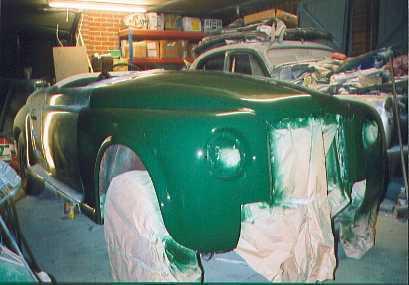 Most panel are now sorted and the bulk had been based up in a solid green colour, to take the final metallic coat. We have constructed the extra metal tonneau panels and have at last got to grips with the shaped windscreens. They have been fixed and only need final detailing.
The engine ancillaries have been progressed, and we are in a position to remove the wings to construct the exhaust and other difficult to get at details. When the engine is up and running I will breathe a sigh of relief. The JET engine has now made its way to Canterbury and we have cut out the old back seat to accommodate it. I still need to get the pre-made exhaust and fit it to the engine before trying to start it up.
A number of unique bits should return from the chromer this week and will be added to the final tally of bits completed.

George
June 2002