Rover 14 Sport Saloon 1936 (eng)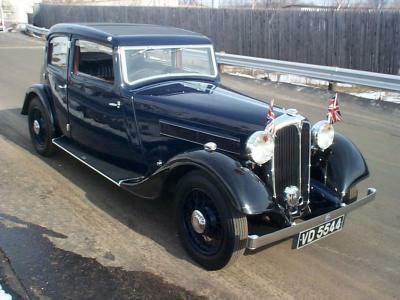 I have the history of the car almost from day 1. The first 5 owners were from Scotland, having been stored for a period of time during WWII. Eventually, about 1980 a gent from Canada traveled to the UK for the sole purpose of buying a small English car. After importing it back home to Canada he spent over $38,000 in restoration (I have those receipts and frankly I think he was taken on much of the charges).
Somehow Hyman Sales in St. Louis, Missouri acquired the car where I purchased it in July 2000. I purchased the car knowing that a major engine problem existed because I saw evidence of a botched job of patching a crack in the block under the carb. There was also a wide oil leak down the side of the block from this area. I felt that I was able to negotiate a "fair" price accordingly. On further examination it was determined that the crack was probably repairable but with no guarantee.
My wife and I have other British cars which we tour many miles each year, up to 5000 miles each. Since we are retired we have time to attend many shows and festivals all over the mid-west. This Rover was to be campaigned this summer (2001) a like distance.
Our other cars are a 1930 Ford Deluxe Phaeton, 1936 Packard, 1938 Packard, (2) 1950 Jaguar Mk V Saloons, 1974 Triumph TR6.
All of these cars are restored to original, which made our decision with the Rover initially difficult. We decided to make this a trustworthy traveler by using a non-Rover motor and transmission. Not an easy decision but one we have not regretted as the transformation was very successful, easy, and did not require doing anything at all that is not reversible. No cutting of chassis, etc. was required. A 2.5 litre GM (95hp) with 5 speed tranny sits in this little Rover and most comments are it "looks like it belongs in the chassis."
I've driven the car 160 miles and it handles very nice. At 60 mph the tach (added) shows 3000 rpm. A friend has the expertise to install a cut down Toyota rear axle with a much higher final ratio but still use the original wire wheels. I doubt that I will exceed 60mph as the suspension and brakes come in to play then. I still have in my possession the parts removed so that should someone wish to reverse what has been done, it would be easy.
The whole project has cost a fraction of what doing an original power-train would have cost. Visibly it still looks very much the car it was and should be a good long mile car. I've yet to add a single running light on the front as many of the pictures show on originals (an accessory I assumed). I am also contemplating adding wide white wall tires, knowing that some Brit sport cars look terrible with them and other Brit Saloons, like our Jags look great!
I know that all of the above upsets some, but again it is not irreversible.

I am a retired teacher and have had the old car hobby for 24 years. In our retirement my wife (Marj) and I sell new log homes with much enjoyment.
Russ Bees from Iowa, U.S.A.